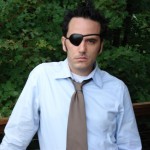 Akiva Zablocki is the editor and founder of iPatchman.com and  Health2Social, a blog devoted to healthcare, technology, and social media, aimed at bringing healthcare to the social dimension.
After being diagnosed with an inoperable brain tumor and two years to live, Akiva went on the hunt for the best neurosurgeon out there that would be willing to cut into his brain. Utilizing his vast social network and the Web 1.0 tools such as Yahoo Groups, Akiva was able to find the doctor who would save his life. Along the journey, Akiva experienced and witnessed the tremendous complexity and difficulties of the medical system in America. Life saved and mission complete, Akiva went on another mission –and once again he had to call on his vast social network and the primitive Web 1.0 tools to do it. Akiva sought to change the healthcare system by bringing it into the social dimension.He started with the Children's Brain Tumor Foundation, continued when he pursued an M.P.H. in Health Policy and Management at Columbia University's Mailman School of Public Health, and now seeks to tie everything together with a blog that will encourage new dialogue about the status of healthcare and how social media and social networks are going to change it all; Akiva launched Health2Social.
Though Akiva was born in New York, he spent the majority of his youth in Israel.At age 18 he served three years in the Israeli Defense Force (IDF). As a Senior Operations Sergeant, Akiva directed the Operations Command Center of the Central Operations Headquarters (a.k.a. the "War Room") of the IDF. While in the military, he received the 2001 Brigadier General Operations Division Award for Excellence.
After the rewarding experience of serving in the army, Akiva returned to New York at the age of 22 to pursue a degree in economics and philosophy at Columbia University. It wasn't until age 25, after beginning his third year at Columbia, that Akiva was diagnosed with an inoperable brain tumor. At the time he was serving as Senior Class President, a role he had began as a junior. He was also in the middle of running Café Nana, a student-run café at Columbia he co-founded with the help of a few friends. Akiva was directed the finances and creating a social media marketing campaign strategy.
Akiva's journey to a cure – which took him all the way to Arizona – introduced him to the Children's Brain Tumor Foundation. After experiencing firsthand the difficulties of the healthcare system, Akiva jumped at the opportunity to volunteer at the organization he had been introduced to by a friend. His interest in healthcare led him away from economics and finance (his original goal when entering Columbia) and toward a degree in Public Health. After graduating magna cum laude with an economics degree from Columbia in 2007, he returned to Columbia University to receive an M.P.H. in Health Policy and Management.
All the while, Akiva's involvement in the Children's Brain Tumor Foundation grew speedily, and earned him a position on the Board of Directors in 2009. He began by chairing the Young Professional's Volunteer Force ("YPG"), through which he has increased the volunteer force exponentially and helped to raise thousands of dollars for the foundation. He continued to use his social network to further the goals of YPG, and along the way gained invaluable skills. Akiva used these skills, as well as those he cultivated while working for Café Nana, to consult various other organizations on their social media strategies, including Aroma Espresso Bar, Kutsher's Resort and Spa, and the JCC Manhattan. Seeing an opportunity to utilize social media in the overall goals of the Children's Brain Tumor Foundation, Akiva founded and continues to chair the Board Technology Committee.
In 2009, Akiva started working in the Health & Group Benefits practice of Towers Watson, a large consulting firm. Today Akiva's clients at Towers Watson include many Fortune 500 companies, including one of the largest hospital systems in New York State, pharmaceutical companies, and several large manufacturing firms. Akiva consults these firms on healthcare strategies,employee wellness initiatives, and the launch of healthcare products.
Akiva's mission to improve healthcare is by no means over, and he invites you to join him in galvanizing the opportunity social media presents for radically modernizing and bettering our healthcare system.